With so much to plan for your big day, sometimes the wedding jewellery can be a  bit of an after thought. But the right jewellery can really set off your dress and add something special to your overall look. Here, I'll walk you through the essential items of wedding jewellery and give you some ideas to help you get the right look.
The Bride
All eyes are on you on your big day and of course, you are the most important member of the wedding party! You may want to consider the following items:
Necklace
Bracelet
Earrings
Tiara, headpiece, comb or crystal headband
Jewelled slides, grips and/or hair winders
You don't have to have all of the above though, and it sometimes looks a bit overdone if you wear too many accessories. You should also give thought to your dress – an elaborate dress looks better with fewer simple accessories, and a simple dress looks better with a few more accessories. Dresses with pearl detail will look good with matching pearl accessories and the same goes for dresses with crystals.
Trends haven't changed too much when it comes to wedding jewellery – silver, crystals and pearls are still as popular as they ever were. Some brides will incorporate a small amount of colour to complement the bridesmaids' dresses as well. Don't worry too much about matching your jewellery to the exact colour of your dress – you'll find pearls, for example, come in all different shades of cream, ivory and white (especially the better quality freshwater pearls), but even if they are not exactly the same shades, they will look just fine.
Consider your dress neckline:
A sweetheart or plunging style looks good with pearls and pendants.
A one shoulder dress looks more balanced if you find a bracelet to wear on the opposite wrist.
A halter neck dress doesn't usually look too good with a necklace – instead you could go for more elaborate drop earrings.
Threader earrings are the latest trend for ear-wear – these are fine chains that are pulled through the ear using an ear post, with a decoration on the end. Check out these pretty pearl threaders from ThreaderEarrings.co.uk for a beautiful up-to-the-minute look:
Although tiaras remain popular, many brides opt for a comb that is worn to the side of the head instead, either with a section of the hair swept up or a complete up style. If you've got thick hair, they work very well, but for those with thin or short hair, you might find a tiara or crystal headband suits you better.
Try eBay for hair accessories – there are so many more available for a lot less money than shops like Accessorize which will charge you £5-£6 per item. Here are the slides I bought for my own wedding from eBay (I ordered quite a few to try out). Prices ranged from 99p to £4 per item plus postage and the total cost of all the slides and winders below was around £20.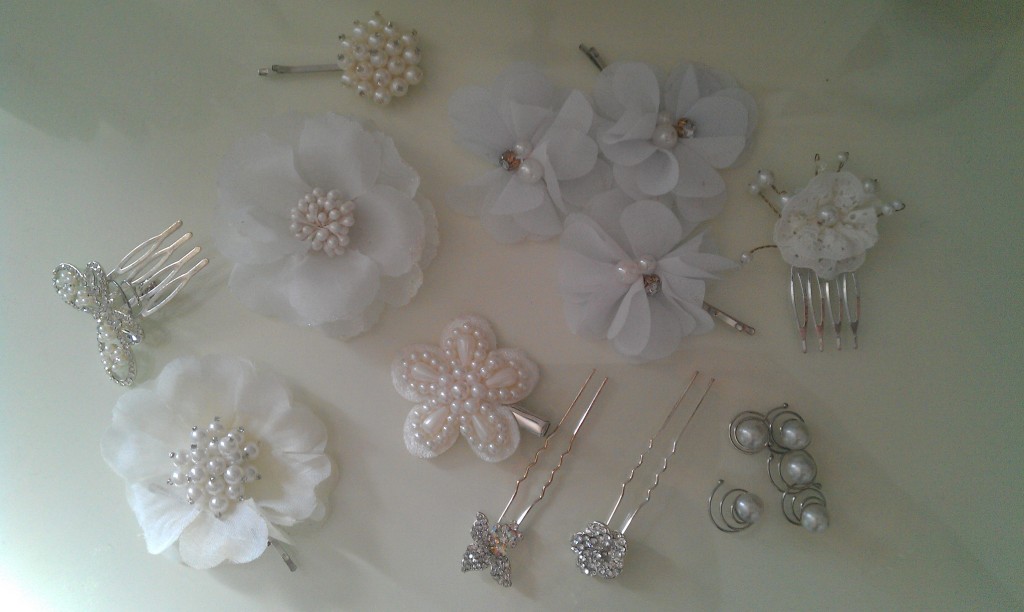 The Bridesmaids
Unless you discuss it in advance, Bridesmaids tend to show up wearing whatever jewellery they choose for the day which is a bit of a problem if you're going for a coordinating look. There are a few solutions to this:
Ask them to wear a particular type of jewellery (e.g. a pendant necklace and pearls) so you are fairly coordinated, or
Ask them not to wear any jewellery, or
Buy their jewellery and gift it to them on the day.
The last suggestion is my favourite because it kills two birds with one stone – not only do you get matching jewellery for everyone for the perfect look, but you also have sorted out the bridesmaids' gifts. It's also a lovely moment when you present it to them. It doesn't have to be an expensive task as you don't want the bridesmaids to outshine the bride anyway and you'll probably pick something fairly simple and relatively inexpensive.
If you're planning on the bridesmaids wearing tiaras, headbands or hair pieces, take into consideration their hairstyles as well, as they might not be able to pull the look off. You'll want to make sure they have whatever you've chosen before the day for a trial run.
The Groom
Okay – the groom doesn't have jewellery as such, but don't forget that they might need some cuff links and a tie pin which could be silver to match the bride's jewellery or again have a small amount of colour to match the bridesmaids' dresses.
Mums of the Bride and Groom
You wouldn't normally buy jewellery for the mums and they like to choose their own, but there's no harm in suggesting a particular theme such as silver and pearls – they are usually happy to oblige.