If you've already decided that a church wedding isn't for you but you're not keen on the Registry Office, it's time to consider what alternatives you have. Although every girl's dream wedding is that fairytale castle, for most of us it'll be well out of our price range. If you don't want to spend a small fortune but you'd like someone a little bit more romantic than your local village hall, here are a few interesting and original ideas to inspire you.
Cley Windmill – Norfolk
A truly unique wedding venue, Cley Windmill is "…surrounded by reeds and peace. The sunsets from here are unforgettably lovely…". With breathtaking views over the salt marshes to Blakeney Point and the sea, this lovely building has a great deal of character, charm and comfort and will make an unforgettable venue for the small wedding (you can have a max 22 people including Bride & Groom). But be warned: it is VERY popular and you will have to book early to get in here. The beautiful windmill sleeps 20 if you want to book it out for guests, although this is optional, as is the option of food. You can instead book on a ceremony only basis if you want to, with the price being £740 (£675 Nov-Feb) (correct for 2013 – please check with the venue for the latest prices).
More information:
Nash Point Lighthouse – Wales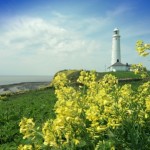 For a unique venue that will give you some incredible photograph opportunities, look no further than Nash Point lighthouse. It is a beautiful and original setting that is one of only a handful of operational lighthouses where you can get married. Nash Point is ideal for small ceremonies (up to 25 people including Bride and Groom, Registrar and Photographer). You can stay on site if you want to but this is optional – the cost of the venue hire alone is a very reasonable £900.00 inc. VAT which includes both the services of a Local Lighthouse Attendant and a small flower arrangement for the wedding table.
More information:
Weddings at Nash Point Lighthouse – website
Wedding brochure
House for an art lover – Glasgow
Set in the grounds of Bellahouston Park, this stunning Mackintosh inspired building was voted in the top 50 best wedding venues in the UK by the Independent Newspaper. The beautifully landscaped parkland provides an incredible backdrop and will give you amazing wedding photos. This venue works for up to 110 guests with up to 130 permitted at the evening reception. On Friday and Saturday, you'll need at least 60 adult guests for your meal. Expect to pay around £30 per head for food – and check out the special offers page on their website for regular discounts.
More information:
Sketch, London
In Mayfair, London, Sketch is a combination of restaurants, bars and art, with some stunning interiors and rooms which make the perfect spot for a wedding venue. The Lecture Room (pictured right) is licensed for ceremonies and there are plenty of options for your reception afterwards, all of which are fantastical. Although the ceremony is limited to 75 guests, Sketch can cater for 15-120 seated guests for lunch or dinner, or reception parties for 30-500 guests. As a rough guide, expect to pay a slightly more pricey £79 per head.
More information:
Wedding Planner Miranda Hadsley Chaplin +44 (0) 20 7659 4544 or email [email protected]
Preston Court, Kent
If you're after the real wow factor for your photos, you can't do much better than this. Preston Court lies on the site of a medieval palace and is surrounded by ornamental lakes and gardens, featuring a magical moated island. There's also a Steam Museum Collection which make s a pretty unique backdrop. The Kentish barn is the venue in which you'll have your wedding and reception (although they do garden weddings too) and this venue can seat up to 120 people for ceremonies and receptions, with a maximum capacity of up to 150 guests in the evening.
More information:
Football clubs
And now for something completely different. Have you thought about getting married at your local or favourite football stadium? Okay, it might not be your typical fairytale wedding, butif you love your team, it'll make for a fun day and some interesting pics. Prices are sometimes very competitive too – for example, room hire at Middlesborough FC is just £225 – £400. If you're a Man U fan, you'll be splashing out a little more – for £50 a head, you can enjoy hire of their suite for your wedding breakfast, Bucks Fizz on arrival for your guests, a tasty three course meal, half a bottle of wine per person. use of the master of ceremonies and other extras such as table linen and personalised printed menus for each table. Not bad value overall. Liverpool FC packages are more high end and you can expect to part with the best part of £5,000.
More information: