Your wedding day is one of the most special days in your life. It needs to be unforgettable and fun. You'll want to make sure that guests talk about your wedding for a very long time! In this post, we've discussed some of the best ideas to make your wedding day more fun and exciting.
Jazz Up the First Dance
Your first dance as lifelong partners should be something everyone remembers for a long time so it's a great idea to bite the bullet and take dance lessons together. You owe it to your guests to surprise them with something special!
Instead of standard ball dance lessons, why not try something different like tango or salsa? Sound a little scary? During the dance, you can project a slideshow to take some pressure off, and let people witness the love you share for each other.
Hire a Photo Booth
It is a brilliant idea to hire a photo booth containing some props. It can be one of the best ways to captured relaxed and fun photos of the special people in your life. Some companies also provide guest books where every guest can stick a photo, and write some special messages for the couple. If hiring a booth is a bit out of your price range, have a look for one of the giant card versions. They still look brilliant in photos. The full people-sized versions are the best. Here are some (unedited) pics from our wedding where we bought a full size card photo frame. It came with a few signs, bits and pieces but we also had a big pile of props next to it that we got from a fancy dress shop. The cost of the frame was about £200:
Hire a Casino
There are always some guests who like to enjoy a bit of a flutter and treating them to a casino will make the evening a memorable one. It's easy to hire a casino and let your guests enjoy themselves. 'Casino money' can also be an excellent favour idea for the guests. Games like blackjack, roulette, poker and others can keep them interested for hours and guests will also be able to mix with each other easily.
Set Up a Sweet Bar
Sweet bars are the new wedding craze and it seems almost every person hires a sweet bar these days. You can mix some different kinds of bags, popcorn and retro sweets to let your guests fulfill their sweet tooth. A sweet bar is always a big hit among both adults and children. It also allows you to personalise the sweet bags for every person coming to your special day.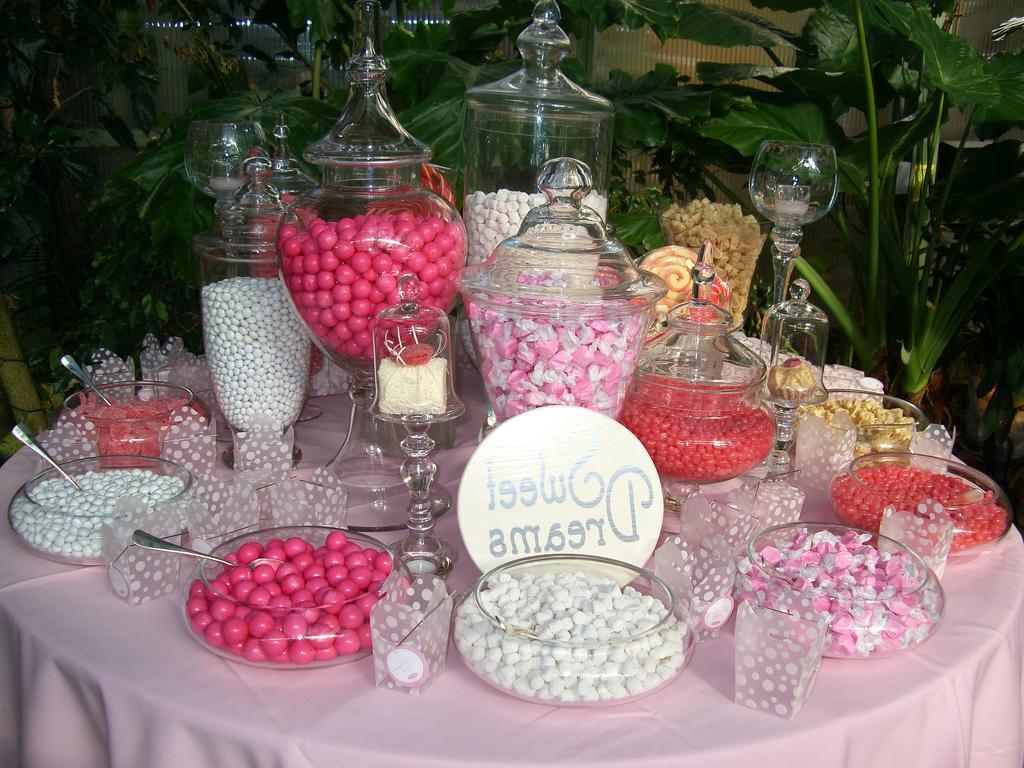 Can't afford to hire one? Make your own with a table and some retro sweet jars.
Hire a Cartoonist or Caricaturist
A caricaturist or cartoonist can be an excellent ice breaker for your guests. He/she can keep everyone entertained throughout the night. It would also mean your guests leave the part with a lovely memento.
Choose a Live Band
Every person in a wedding loves the energy of a live performance from a popular local band. A band can add something extra to your special day. Everyone will enjoy themselves on the dance floor. If you want, a band can be accompanied by a DJ for some fusion. We hired Richie Muir for our wedding who was excellent and also provided the DJing in between sets.
Don't Ignore the Kids
A lot of guests will visit your wedding party with children. Unfortunately, children get bored very easily and this can make their mums and dads want to leave early – so you need to make sure they have something to keep them engaged and entertained. Child friendly favours like sweets, activity packs, toys and crayons can help to entertain them. We also set up a table with colouring books, paper, arts and crafts materials and kits, and lego which we bought cheaply in the months running up to the wedding from supermarkets like Asda – the kids sat at this for hours and it was a really good way to keep them – and their parents – happy.
By using one or two of these great ideas to make your wedding day more fun, you'll be able to make your day even more special, exciting and unforgettable.
Image source: http://www.ivocaricaturist.co.uk/caricatures-from-photo-wedding-UK.html
Featured image source: http://caricature.vidalondon.net/wedding-caricatures/